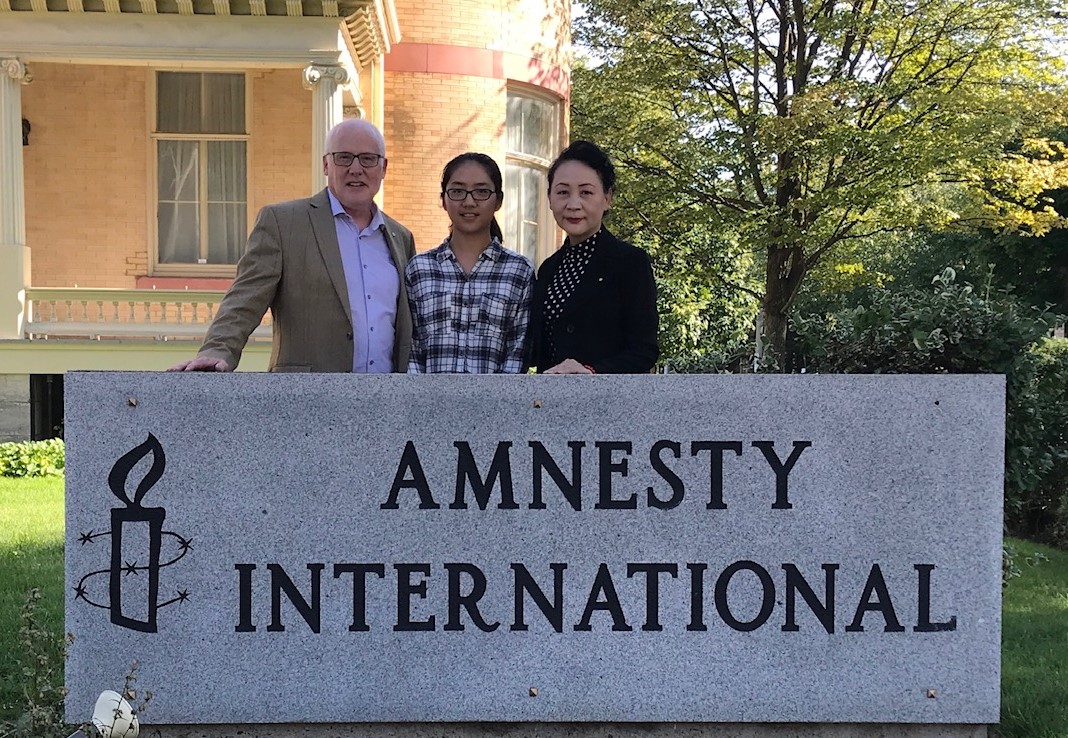 繼續追蹤董廣平下落,關注董廣平安危
Canadian supporters of missing Chinese human-rights defender want more information
Jim Bronskill - The Canadian Press
March 29, 2023
OTTAWA - Canadian supporters of Dong Guangping, a missing Chinese human-rights defender, are disappointed with what they call a disingenuous response from Vietnamese officials to the United Nations.
There has been no word of Dong's fate since he was arrested Aug. 24 by Vietnamese police. In mid-December, UN human-rights experts wrote to the Vietnamese government seeking answers about his whereabouts and well-being.
In a recent reply to the UN, the government said it had no information concerning Dong's presence in Vietnam.
Dong's daughter Katherine, who lives in Toronto with her mother, said in November she feared her father had been handed over to Chinese authorities.
Katherine Dong now questions whether the Vietnamese government is accountable to anyone concerning human rights.
"Vietnam ignored our family and ignored the Canadian government, but we were holding onto hope that they would take the United Nations seriously and finally disclose what has happened to my father," she said in a statement jointly released by the Toronto Association for Democracy in China and the Federation for a Democratic China.
"Who do we look to now? What is left?"
The association for democracy says Dong has been accepted for resettlement to Canada as a government-assisted refugee, but Ottawa was not able to persuade Vietnamese officials to allow him to leave Vietnam and travel to Canada.
Dong had been in hiding in Vietnam for 31 months while trying to make it to freedom.
Dong's supporters say he was fired from his job as a police officer in China in 1999 because he signed a public letter related to the anniversary of the 1989 Tiananmen Square protests.
He was later imprisoned for three years on charges of "inciting subversion of state power."
Dong fled to Thailand in 2015 with his wife and daughter, who were resettled to Canada as refugees. However, Thailand sent Dong back to China. After another stint in prison, he tried again to leave, finally making it to Vietnam in January 2020.
In their December letter, the UN experts sought assurances from Vietnam that steps be taken to establish Dong's fate and whereabouts and "prevent any irreparable harm to his life and personal integrity, and to halt the alleged violations."
In its March 15 response, the Vietnamese government said there is no arbitrary detention or enforced disappearance in Vietnam, adding only those who violate the law are detained and prosecuted.
Dong's sudden arrest last August came as a crushing disappointment for his family and for human-rights groups who had been supporting him, says the joint statement from the two Canadian groups promoting democracy in China. "Vietnam's disingenuous response to the United Nations is yet another blow."
Global Affairs Canada said in November that the government was deeply worried about Dong's safety and well-being and had been raising its concerns at the highest levels. "Officials are working to ascertain his whereabouts, including through diplomatic engagement with both Vietnam and China," department spokesman Grantly Franklin said at the time.
Sheng Xue, chairperson of the Federation for a Democratic China, said the recent snub from Vietnam "must spur the Canadian government to take further action."
-This report by The Canadian Press was first published March 29, 2023.
失蹤的中國人權維護者的加拿大支持者希望獲得更多信息
吉姆·布朗斯基爾 - 加拿大新聞社
2023 年 3 月 29 日
渥太華——失蹤的中國人權捍衛者董廣平在加拿大的支持者對越南官員對聯合國的虛偽回應感到失望。
董廣平自從 8 月 24 日被越南警方逮捕以來,一直就沒有關於他的下落的任何消息。12 月中旬,聯合國人權專家寫信給越南政府,尋求有關他的下落和安康的答案。
在最近給聯合國的答復中,越南政府表示,他們沒有關於董廣平在越南的消息。
董的女兒凱瑟琳與母親住在多倫多,她在 11 月表示,她擔心父親已被移交給中國當局。
凱瑟琳·董現在質疑越南政府是否對任何人的人權問題負責。
「越南無視我們的家人,無視加拿大政府,但我們一直希望他們認真對待聯合國,並最終披露我父親的下落」,她在多倫多民運會与民主中國陣線聯合發表的一份聲明中說。
「我們現在還能向誰求助?還有什麼指望?」
民運會表示,董已獲准作為加拿大政府援助的難民,重新安置到加拿大,但是,加拿大政府無法說服越南官員允許董先生離開越南前來加拿大。
董在越南躲藏了 31 個月,同時他一直在努力爭取獲得自由。
董先生的支持者說,1999 年,董先生簽署了一封關於 1989 年天安門廣場抗議活動周年紀念的公開信,因此在中國被開除工職。
後來,董先生以「煽動顛覆國家政權罪」,被判入獄三年。
董於 2015 年與他的妻子和女兒逃往泰國,他們作為難民被重新安置到加拿大。然而,泰國卻將董交回中國。在又一次服完刑期後,他再次嘗試離開,最終於 2020 年 1 月抵達越南。
在 12 月的信中,聯合國專家要求越南保證采取措施,確定董的現狀和下落,「防止對他的生命和人身安全造成任何不可挽回的傷害,並停止坊間傳聞的各種侵害行為」。
越南政府在 3 月 15 日的回應中表示,在越南不存在任意拘留或強迫失蹤,並補充說,只有那些違反法律的人才會被拘留和被起訴。
兩個促進中國民主的加拿大團體在聯合聲明中說,董去年 8 月突然被捕,這讓他的家人和一直支持他的人權團體感到非常失望。「越南對聯合國的虛偽回應是又一次打擊」。
加拿大全球事務部在 11 月表示,政府對董先生的安危深感擔憂,並一直在向越南最高層提請關切和重視。「官員們正在努力確定他的下落,包括通過與越南和中國的外交接觸」,該部門發言人格蘭特利·富蘭克林當時表示。
民主中國陣線主席盛雪女士表示,越南最近推脫責任的做法「應該促使加拿大政府采取進一步措施和行動。」
——加通社 2023 年 3 月 29 日報道
(本文由 Howard Hao 翻譯)